CryptoBloc Technologies Corp.
USA: CRYBF  |  Canada: CRYP.CN  |  Germany: GR9.F
Last Price: .147  |  Website  |  Security Details  |  Latest News
With the overwhelming success of last week's Canadian-only Blockchain Profile, I felt honor-bound to present something in the same realm to my Fellow American Wolfpack Members!
Over the last two years, the World has seen a true paradigm shift.
Millions have flocked to digital Crypto-Currencies like Bitcoin, Ripple, and Etherium as they staged mind-boggling once-in-a-lifetime rallies.
Governments couldn't stop it.  Wall Street couldn't understand it.  Silicon Valley couldn't get enough of it.
Yet still…Millions bought in. The Revolution had begun.
And now the Game-Changing Technology which birthed Bitcoin and other Crypto-Currencies known as BLOCKCHAIN is attempting to completely DISRUPT the world of Finance!
One such company utilizing the Blockchain is now this week's Brand New Alert.
INTRODUCING…..CRYBF!
Cryptobloc Technologies Corp. (CRYBF) is a Blockchain Primary company that is working with Government and Commercial leaders to develop and implement Innovative Crypto-Currency services and Blockchain solutions that will form the foundations of TOMORROW's Economy.
Tri-Listed in the US, Canada, and Germany, CRYBF represents a one-of-a-kind opportunity at the burgeoning world of Crypto-Currencies and Blockchain Tech — without leaving the "tried-and-true" comfort of the Equities Stock Market!
WHY BLOCKCHAIN TECHNOLOGY?
With Bitcoin and Crypto-Currencies all the rage this year, the thing that has the Street most excited is the disruptive technology of Blockchain which makes it all possible.
But what is Blockchain Technology?
The best way to understand Blockchain Technology is to think of it as an Accounting Ledger.
The Blockchain is essentially a decentralized peer-to-peer Global network of computers jointly managing a database that records transactions. So for example, Bitcoin is managed by its network, and not any one central authority.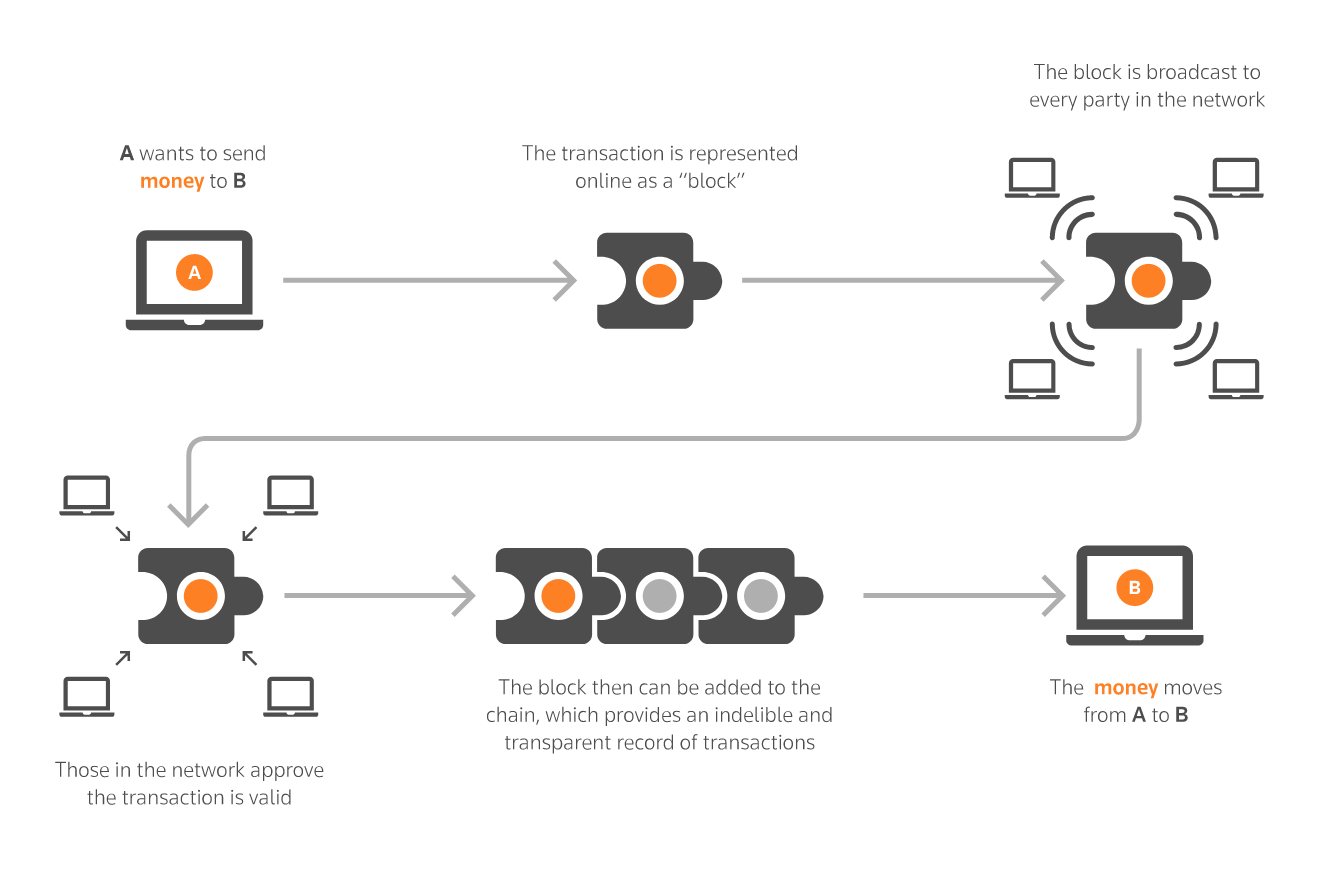 And since it's a decentralized, distributed and public digital ledger that is used to record transactions across many computers, public record cannot be altered retroactively without the alteration of all subsequent blocks and the collusion of the network.
And now Blockchain is impacting far more than the world of money.
Blockchains can be used for a wide variety of applications, such as tracking ownership or the provenance of documents, digital assets, physical assets or voting rights.
Companies like IBM, Microsoft, Fedex and Walmart have recently embraced this technology to drive their own supply chains.
BLOCKCHAIN SECTOR RALLIES
As you can imagine, with Bitcoin hitting north of 20,000 this past Winter, traders have gone gaga for Blockchain & Crypto-related Stocks…
  OSTK (Overstock.com) was trading around 21.00 before it embraced Bitcoin and shot to highs of 89.80 for 327% GAINS!

  RIOT (Riot Blockchain) saw over 1,100% GAINS as rallied from around 3.75 to highs of 46.20!

  GBTC (Bitcoin Investment Trust) saw over 760% GAINS as it rallied to highs of 38.71 from around 4.50!

  MARA (Marathon Patent Group) popped from 1.32 to highs of 10.03 for over 650% GAINS!

  LBCC (Long Blockchain Corp) famously became a Blockchain company overnight and saw over 450% in just days!

  Perhaps most impressive, LFIN (Longfin Corp) debuted under 5.00 before shooting to highs of 142.82 for over 2940% GAINS!
Needless to say, CRYBF is certainly in good company and may ALREADY stand head and shoulders above it's peers!  Here's why….
CRYBF – THE NEW NAME IN CRYPTO
CRYBF is not here to waste time.
The company aims to focus only on Asset-Backed, Non-Speculative projects that will remove much of the instability that has plagued many early players on the public market.
Instead of focusing solely on Crypto-Currency portfolios, CRYBF has noted it has already secured strategic partnerships with market leaders at every stage of the emergent ecosystem from Hardware Manufacturers, to Regulators, to Consumer Activation Partners.
These partnerships, combined with a clearly defined operational plan, position CRYBF as a leader in the Blockchain technology evolution.
Early operations have been supported by a foundation of development and acquisition of Crypto-Currency service providers that include Identity Verification and Anti-Money Laundering services to several of the largest crypto exchanges in the world.
CRYBF is now focusing on deploying solutions and expanding existing relationships in the following 6 sectors:
  Government and Regulation

  Financial Technology Services

  Health and Wellness

  Loyalty and Entertainment

  Energy and Resources

  Telecommunications
The company is currently selecting the primary site for the development of it's Blockchain Innovation Center called Cryptobloc Labs. This project will expand CRYBF's platform and accelerate their innovation and deployment of commercial-ready Blockchain solutions.
THE 1LINX ACQUISITION
Previous to their company name-change, CRYBF's first Acquisition was 1Linx – a New York based Blockchain technology company with a highly successful proprietary Blockchain Authentication Platform and a suite of blockchain security services.
1Linx was founded in 2013 by veterans in the mobile space in order to leverage network data to serve as an authentication layer in Blockchain-Crypto transactions.
1Linx operates four distinct business lines: operator look-up, customer look-up, IP information, and customer friendly user-experience. All four business lines offer transaction verification services backed by the 1Linx proprietary blockchain technology platform.
"1Linx continues to protect consumers in the Cryptocurrency space to prevent fraudulent transactions and drive a secure marketplace….
…1linx authenticates millions of transactions a month with an exponential growth as mainstream customers enter the cryptocurrency marketplace."
CRYBF AND COINBASE
In the U.S., Bitcoin Exchanges are considered Money Services Businesses (MSB) subject to various obligations and regulation.
As a "financial institution", MSB's are required to comply with Bank Secrecy Act laws and regulations, including Anti-Money Laundering (AML) and Know Your Customer (KYC) rules.
CRYBF's 1Linx provides a suite of security services catered to meeting the regulatory requirements of Blockchain MSB's.
Now anyone who has ever purchased a coin must be familiar with COINBASE.
As an MSB itself, Coinbase is essentially THE Go-To Crypto-Currency Exchange for new & casual investors.
Coinbase now serves over 13 MILLION Customers and has grown to exchange over $50 BIL in Digital and fiat currencies!
That's more than prominent long-established brokerages like Charles Schwab!!!!
Well, Coinbase now just so happens to be CRYBF's "Lead Client" as they provide KYC and AML services to them!
As CEO Neil SM highlighted in their most recent tweet, there may be "More #sweet things to come" with Coinbase and CRYBF!
CRYBF DOUBLES DOWN ON CRYPTO MINING!
Another spectrum of CRYBF's operations is the potentially very lucrative Crypto & Bitcoin Mining.
Last month, the company's announcement that they intend to purchase 5000 Machines for mining rocked the markets!
Needless to say, this potential addition would certainly make CRYBF a player in the crypto-mining sphere!
Cryptobloc Technologies Completes Letter of Intent to Acquire 5000 Cryptomining Machines
VANCOUVER, British Columbia, April 25, 2018 (GLOBE NEWSWIRE) — Cryptobloc Technologies Corp. is pleased to announce the successful completion of a Letter of Intent to acquire a minimum of 5000 Cryptomining machines from Hong Kong based, Milson Investment Holdings Ltd. This significant acquisition represents another phase of operations that is capitalizing on the promise and continued adoption of Cryptocurrencies as a staple of the new economy.
CEO, Neil Stevenson-Moore comments:
"As Bitcoin prices climb to a 40-day high above $9,500 USD, we are very pleased to complete this agreement and begin the process of growing our Cryptocurrency portfolio. These 5000 machines represent the foundation for our future growth and will provide a solid asset base which we can leverage for our forthcoming projects. The large majority of the 5000 machines will be state-of-the-art Bitcoin Miners; however, there will be some consideration given to miners that produce other coins that are demonstrating significant growth, application, and confidence in the market."
Stevenson-Moore continued: "The growth we continue to witness across the Crypto landscape made the acquisition and deployment of a successful mining operation an obvious decision as a means to underpin our future plans. This agreement represents just the first of many exciting partnerships we are looking forward to sharing in the coming weeks. As always, we appreciate the patience and confidence of our shareholders as we build an exciting future for Cryptobloc."
A further release with clarifications can be read here.
THE BOTTOM LINE
With 52 Week Highs more than DOUBLE the current price, it's hard not to salivate over CRYBF at these low levels!
CRYBF appears to be looking to make their mark as an all-inclusive Crypto/Blockchain Operation with their hands in multiple spheres of this new High Growth Industry.
Like the services that it provides for it's lead client, Coinbase – future projects recognize and address the massive opportunity to disrupt existing industries as they develop both software and hardware infrastructures to serve the growing market for Blockchain solutions.
"I wish I could share everything right now – we have a series of patent applications and partnerships in late stages of evolution that are progressing towards activation. However, our team could not be more pleased to be coming back to trade at the inflection point of such a transformative technology.
Blockchain is moving past the "promising stage" and is about to become a crucial part of every major industry. Cryptobloc is primed and ready to be a leader in the Blockchain industry."  –  Neil SM, CEO
Although there's already a lot to get excited for, we certainly can't wait to see what CRYBF has up their sleeve in the coming year….
Make sure you put it on your screen RIGHT NOW and Follow on Twitter for Updates + Play-by-Play!
Please read our Full Disclaimer: http://www.TheWolfofPennyStocks.com/disclaimer
This report/release/profile is a commercial advertisement and is for general information purposes only. We are engaged in the business of marketing and advertising companies for monetary compensation unless otherwise stated below. The paying party may own shares and may liquidate them during the promotional period.
PLEASE NOTE WELL: TheWolfofPennyStocks.com and its employees are not a Registered Investment Advisor, Broker Dealer or a member of any association for other research providers in any jurisdiction whatsoever and we are not qualified to give financial advice.
THEWOLFOFPENNYSTOCKS.COM WILL NEVER ACCEPT FREE OR RESTRICTED TRADING SHARES IN ANY COMPANIES MENTIONED at THEWOLFOFPENNYSTOCKS.COM &/OR ANY OF OUR SOCIAL NETWORKING AND EMAIL ADVERTISING PLATFORMS.
You are reading this newsletter because you have subscribed via our Opt-In Signup form on our Website. If you have been subscribed by mistake, you may unsubscribe HERE.
This Newsletter is now owned and operated by Link Media. Any wording found in this e-mail or disclaimer referencing to "I" or "we" or "our" refers to Link Media and/or it's subscriber base. Our website and newsletter are for Entertainment purposes only. This newsletter is NOT a source of unbiased information. Never invest in any stock featured on our site or emails unless you can afford to lose your entire investment. The disclaimer is to be read and fully understood before using our site, or joining our email list. Full disclaimer can be read at http://www.TheWolfofPennyStocks.com/disclaimer
We encourage all to read the SEC INVESTOR ALERT before reading our Newsletter.
Release of Liability: Through use of this email and/or website advertisement viewing or using you agree to hold TheWolfofPennyStocks.com, its operators owners and employees harmless and to completely release them from any and all liability due to any and all loss (monetary or otherwise), damage (monetary or otherwise), or injury (monetary or otherwise) that you may incur. TheWolfofPennyStocks.com sponsored advertisements do not purport to provide an analysis of any company's financial position, operations or prospects and this is not to be construed as a recommendation by TheWolfofPennyStocks.com or an offer or solicitation to buy or sell any security.
COMPENSATION: TheWolfofPennyStocks.com has been compensated one-hundred and fifty thousand dollars cash via bank wire by Cryptobloc Technologies Corp. for a one week advertising services contract. TheWolfofPennyStocks.com does not own any shares of CRYBF.
All Content, Distribution, and editorial control has been given, reviewed, and approved by Cryptobloc Technologies Corp.
No securities commission or other regulatory authority in Canada or any other country or jurisdiction has in any way passed upon this information and no representation or warranty is made by to that effect. The information is not a substitute for independent professional advice before making any investment decisions. The CSE (Canadian Securities Exchange) has not reviewed the information in this Article and does not accept responsibility for the adequacy or accuracy of it.
TheWolfofPennyStocks.com does not investigate the background of any third party. The third party may have shares and may liquidate it, which may negatively affect the stock price. This compensation constitutes a conflict of interest as to our ability to remain objective in our communication regarding the profiled company. TheWolfofPennyStocks.com may purchase shares on the open market of any mentioned company following the dissemination of this email. The information contained herein is based on sources which we believe to be reliable but is not guaranteed by us as being accurate and does not purport to be a complete statement or summary of the available data. TheWolfofPennyStocks.com encourages readers and investors to supplement the information in these reports with independent research and other professional advice. All information on featured companies is provided by the companies profiled through their website, news releases, and corporate filings, or is available from public sources and TheWolfofPennyStocks.com makes no representations, warranties or guarantees as to the accuracy or completeness of the disclosure by the profiled companies. Further, TheWolfofPennyStocks.com has no advance knowledge of any future events of the profiled companies which includes, but is not limited to, news & press releases, changes in corporate structure, or changes in share structure.
None of the materials or advertisements herein constitute offers or solicitations to purchase or sell securities of the companies profiled herein and any decision to invest in any such company or other financial decisions should not be made based upon the information provide herein. Instead TheWolfofPennyStocks.com strongly urges you conduct a complete and independent investigation of the respective companies and consideration of all pertinent risks. Readers are advised to review SEC periodic reports: Forms 10-Q, 10K, Form 8-K, insider reports, Forms 3, 4, 5 Schedule 13D. TheWolfofPennyStocks.com is compliant with the Can Spam Act of 2003. TheWolfofPennyStocks.com does not offer such advice or analysis, and TheWolfofPennyStocks.com further urges you to consult your own independent tax, business, financial and investment advisors. Investing in micro-cap and growth securities is highly speculative and carries and extremely high degree of risk. It is possible that an investor's investment may be lost or impaired due to the speculative nature of the companies profiled.
The Private Securities Litigation Reform Act of 1995 provides investors a 'safe harbor' in regard to forward-looking statements. Any statements that express or involve discussions with respect to predictions, expectations, beliefs, plans, projections, objectives, goals, assumptions or future events or performance are not statements of historical fact may be "forward looking statements". Forward looking statements are based on expectations, estimates, and projections at the time the statements are made that involve a number of risks and uncertainties which could cause actual results or events to differ materially from those presently anticipated. Forward looking statements in this action may be identified through use of words such as "projects", "foresee", "expects", "will", "anticipates", "estimates", "believes", "understands", or that by statements indicating certain actions "may", "could", or "might" occur. Understand there is no guarantee past performance will be indicative of future results. Past Performance is based on the security's previous day closing price and the high of day price during our promotional coverage.
In preparing this publication, TheWolfofPennyStocks.com has relied upon information supplied by various public sources and press releases which it believes to be reliable; however, such reliability cannot be guaranteed. Investors should not rely on the information contained in this email and website. Rather, investors should use the information contained in this website as a starting point for doing additional independent research on the featured companies. The advertisements in this email and website are believed to be reliable, however, TheWolfofPennyStocks.com and its owners, affiliates, subsidiaries, officers, directors, representatives and agents disclaim any liability as to the completeness or accuracy of the information contained in any advertisement and for any omissions of materials facts from such advertisement. TheWolfofPennyStocks.com is not responsible for any claims made by the companies advertised herein, nor is TheWolfofPennyStocks.com responsible for any other promotional firm, its program or its structure.